Calendula Body Oil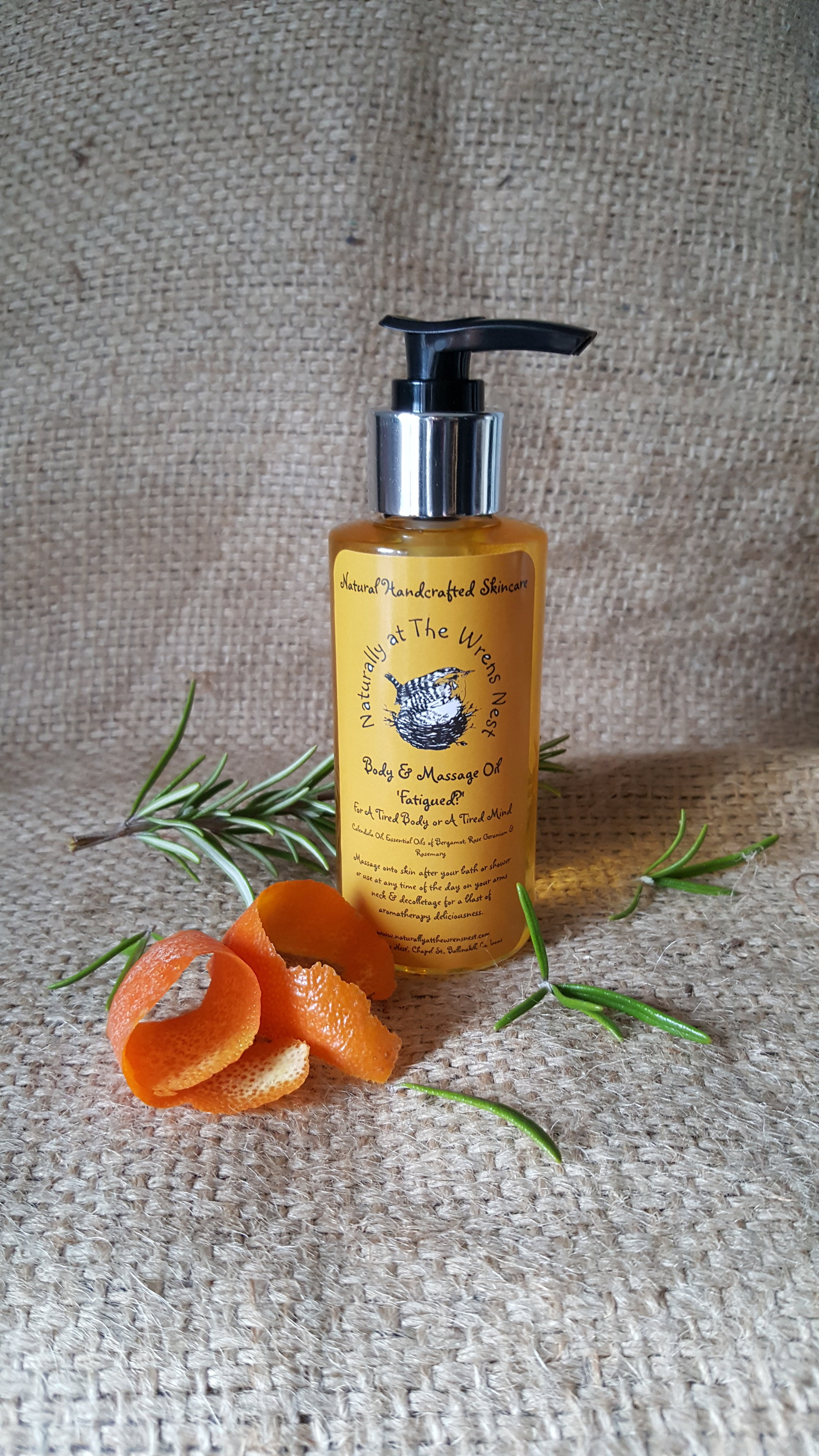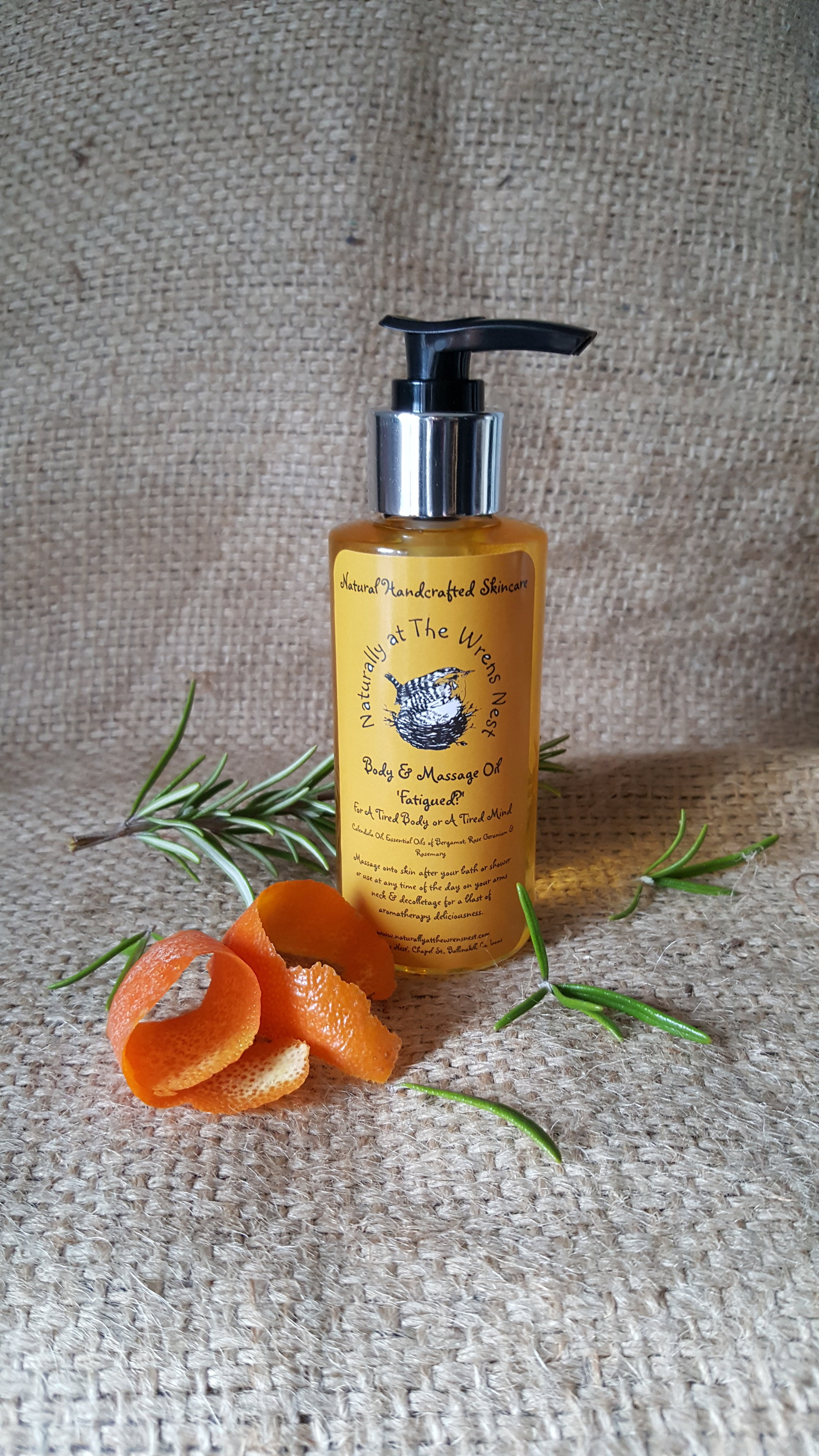 Calendula Body Oil
Received my order of fatigued blend oil today and was so delighted with the beautiful packaging with sprigs of lavender and heather, a sample of soap and personalised card! Also love the oil, beautiful subtle smell. Have been recommending already! Pauline Gallanagh
All my body oils all have a calendula oil base, made from calendula flowers grown in my own garden. Calendula oil is an incredible oil - soothing, healing, anti-inflammatory, antiseptic, antimicrobial - Eczema, psoriasis, dermatitis, and other skin problems can be soothed using calendula oil. I have several essential oil blends that I add to the calendula oil, depending on the effect needed. These oils can be used as a moisturiser after your bath or shower, as a massage oil, as a bath oil or as a pick me up during the day - massage a little onto your arms and neck.
In an effort to reduce plastic waste and be as environmentally friendly as possible, my Body Oils now come in a reusable glass bottle - they make a really pretty posy vase :) 150g bottle.
Beautiful has a blend of lavender, rose absolute and chamomile essential oils which will calm, relax and unwind as well as leave your skin feeling, well, beautiful! This particular blend is incredibly calming and suitable for the most sensitive skins.
Kay's Blend got its name from my aunt who suffers from Rheumatoid Arthritis. She was looking for something to relieve the pain and provide some gentle relief from the lack of momement in her joints and so this blend came about. It has lemon to detoxify and help break down build up in the joints and lavender & chamomile are pain relieving and anti inflamatory and incredibly soothing to both the body and mind.
Fatigued? contains bergamot, rose geranium and rosemary and is my own personal favourite. It works on a tired mind or a tired body. it will ease aches and pains and provide clarity of thought to the foggiest of minds!
In the evening after a bath the Fatigued oil is a fabulous oil that completely mellows me out, leaving me lovely and relaxed for bed. In the morning to invigorate I find The Happy oil really peps me up. It's got a citrusey smell that really wakes me up. I also find it good during the day rubbed into my temples and wrists if Im flagging a bit…Sandra O Connor
Stress Less is a blend of lavender, lemon & clary sage, it will slow you down and help you breath! this is the one for those days when nothing is going your way and you feel like you have nothing left to give!
Bought some products last week and they are so gorgeous. I always find it so hard to sleep and since I've been using the stress less oil I've had no bother drifting off. It's so calming and soothing and smells so good!…Kristen Kehoe
Happy Oil is a blend of grapefruit, bergamot & ylang ylang which is uplifting on the darkest days. As an antidepressant bergamot can create feelings of joy and energy by improving the bloods circulation. It is also a relaxant and therefore can calm the nerves and reduce anxiety and stress.
One for the Girls has a blend of lavender, chamomile, clary sage and bergamot which will calm the most raging hormonal anxiety and also provide pain relief for cramps when massaged gently into the tummy (always in a clockwise direction). It's a blend though that can be used any time and you may find yourself reaching for it throughout the month 😉

Why not add my GIFT WRAP SERVICE to your order and have your products beautifully wrapped up if its a gift for someone special. Link here